Fingerpicking Guitar Lessons
Great Fingerpicking Made Effortless & Easy
Start Fingerpicking Guitar Lessons Now
How To Master Fingerpicking And Become A Great Acoustic Guitar Player… Even If You've Tried In The Past And Got Stuck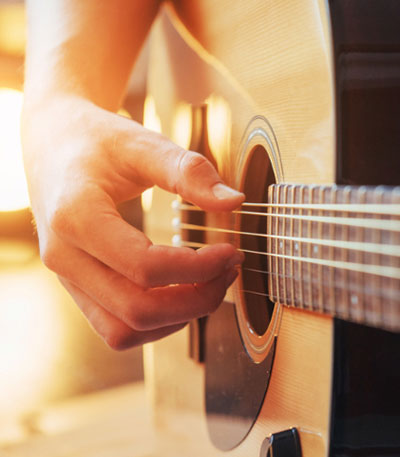 • Do you struggle to improve your fingerstyle guitar playing?
• Can you already fingerpick well, but feel stuck at the same level for a while?
• Do you want to finally be able to play real music and stop feeling like a beginner?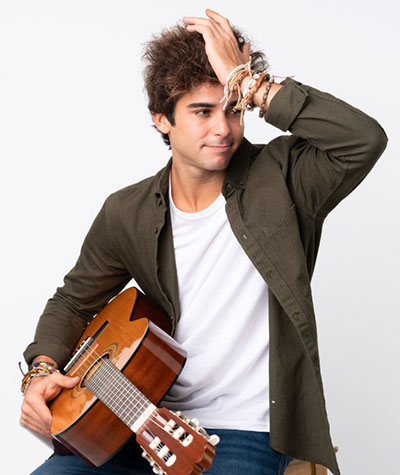 I know how you feel, many people felt this way, but what I've found is, anyone can learn and master fingerstyle guitar playing – and it doesn't require endless hours of practice if you know exactly what to learn, how to practice it and how to put all the pieces together.
How do I know?
I was that guy. I struggled and didn't have a clue.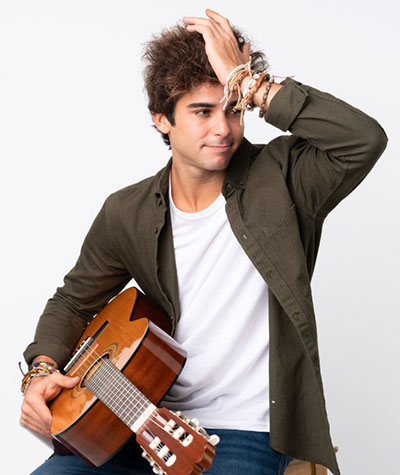 I really didn't know what I was doing. I picked up little things here and there from books and videos, but it was a very slow and frustrating process, with no progress at all.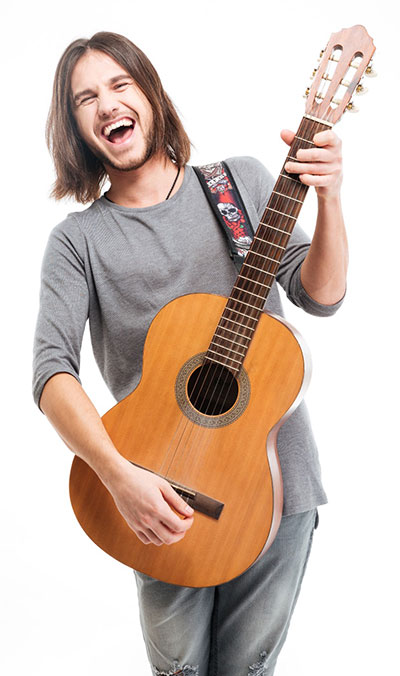 It wasn't until I came across a great fingerstyle teacher and his awesome fingerpicking guitar lessons, that things changed. Because I was willing to invest into my guitar playing, I started receiving regular lessons in fingerpicking guitar, and it immediately made a huge difference in my playing.
I felt so much better about things that I wanted to pick my guitar up more often. As I became a very advanced guitar player, I wanted to begin teaching acoustic guitar lessons.
After years of professional training on how to teach guitar, and teaching hundreds of students, I found even better ways to help guitar students break through their limitations and finally play great music.
As my career grew, guitar players from around the world have been asking me to create an online fingerstyle course for guitar so they can have their own breakthroughs. After 2 years of planning and design, I've created:
The Ultimate Fingerpicking Guitar Course - A Complete System For Fingerpicking Acoustic Guitar, So Simple Even A Beginner Can Learn It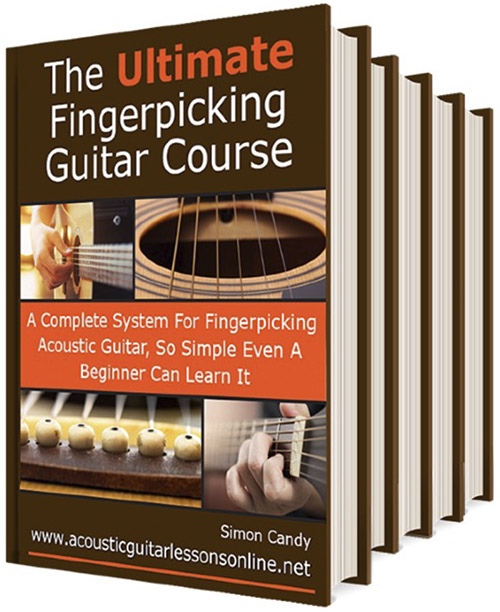 Here's What You Learn:
Learn 7 special tricks you can use to make everything you play sound like a pro – the best part is, these tricks are easy to learn and easy to use!
How to avoid all the common mistakes and pitfalls most people make when trying to fingerpick their guitar. This will save you so much time and frustration.
Discover 3 ways to fingerpick anything you like on guitar.
How to create real music with your fingerpicking skills right away, even if you are a total beginner to this style of guitar playing.
Discover THE number one fingerpicking pattern of all time and how you can use it to create your own music. This pattern can be found in thousands of songs.
How to use fingerpicking patterns you already know in completely new ways so that your musical creativity grows and improves FAST!
Discover the secret to instantly improvise fingerpicking guitar patterns on any chord progression you like. You're going to love this!

The one simple fingerpicking trick that is easy to learn but sounds like there are two guitars playing at once!
Discover the one big thing other fingerpicking courses miss that is absolutely critical to develop great fingerpicking technique. You learn several effective strategies to create a clear and fluent fingerpicking sound. These strategies work every single time.
Learn how to apply your fingerpicking skills to any style of music you like including blues, country, jazz, pop/contemporary, folk, rock. One size does not necessarily fit all. I show you exactly what is required to fingerpick in these styles of music, and then train you to be able to actually DO IT!
Learn how to fingerpick in the styles of guitar playing greats such as Chet Atkins, Tommy Emmanuel and Jerry Reed.
Hi My name is Darryl and I am a guitar teacher from London in England and I just wanted to talk a little bit about Simon Candy's new course The Ultimate Fingerpicking Guitar Course. I've had a couple of products from Simon's website AcousticGuitarLessonsOnline.net and I've been really impressed and have had the fortune to take a look at his new course.
What I really like is that he has gone for fundamentals skills. The great benefit of working on those fundamental skills is that it allows you to really learn how to play what you want and the music you like rather than being beholden to particular fingerpicking songs. This has always been a bugbear of mine with fingerpicking because often people learn songs and then don't end up with a style that is their own. However when you work on fundamentals you end up with being able to pick and choose what you want to play. If you want to play songs, great, if you want to write music with it, great, if you want to play different styles not a problem because it's a technical skill.
Simon has also made it really simple to follow, and for me thats what makes it quite different from other books that certainly I've worked with in the past, or other courses.
Simon has made it simple to get your foot on the ladder, and to keep going and not have that thing where you have a look at a couple of exercises and then run away, but rather keep progressing with your fingerpicking skills.
I think whether someones a beginner, or whether they have been fingerpicking for a long time, you are going to benefit greatly from this course because Simon has layered in some really excellent exercises, good technique habits, and some quite wonderful musical ideas, for example so you can play chord and melody at the same time.
You are going to get a lot out of The Ultimate Fingerpicking Guitar Course and you can expect that you will learn great things, and I know I certainly have that is going to help me with my own playing and actually help me with my teaching too.
So well done Simon, I think it's a wonderful course!
Darryl Powis
Owner and Director of Guitar Tuition East London

Who Is This Fingerpicking Course For:
Beginners: This fingerpicking acoustic guitar course helps you develop your fingerpicking skills from the very beginning. Everything is clearly laid out for you step by step so that everything is easy to understand, easy to learn, and easy to master.

Intermediate Fingerpickers: I will teach you to:

• Reinforce everything you already know
• Refine your fingerpicking technique
• Fix any flaws you may have in your fingerpicking
• Learn new, very cool (and fun) and advanced fingerpicking patterns, exercises and concepts
• Apply your new skills in real music.

Advanced Fingerpickers: This acoustic guitar course teaches you to:

• Reinforce everything you already know
• Fix any flaws you may have in your fingerpicking
• Transform your advanced fingerpicking skills to pro level skills
• Learn new, pro level fingerpicking concepts
• Apply your new skills in in real music so that you sound like a pro
Hi This is Matthew Delage the owner and director of The Madrid Guitar School in Spain. I absolutely recommend Simon Candy's Ultimate Fingerpicking Guitar Course for different reasons. The first one is that Simon Candy has helped me a lot as a guitar player, as a fingerpicking guitar player both in person and through resources on his website AcousticGuitarLessonsOnline.net.
I've participated in seminars where Simon has actually helped me to improve my fingerpicking through new tricks that I didn't know about before and new ways to fingerpick my guitar which I have benefited a lot from.
Why I would recommend this course in particular?
I think there are two things that are very specific to The Ultimate Fingerpicking Guitar Course that I don't really see in other courses or other ways of teaching from many teachers, and it's really crucial.
The first is that Simon actually makes sure you're going to practice, and know exactly what you are going to practice (regarding the course). He will help you out with actual practice schedules, telling you how to practice the contents of the course, in what order, and you can ask him questions on how to actually apply the things you are learning in the course. It's not just like learning a bunch of things, a bunch of stuff and then not actually knowing how to apply it, which brings me to the other point:
Understanding how all these pieces fit together in a whole system that you can use to be creative on your guitar. It's not just knowing one thing here, one thing there, a little trick here a little trick over there. It's actually becoming a master at integrating everything so that you can fingerpick your guitar in many different ways, and improvise on the spot which I think is really important to be able to do as a guitar player.
So I would absolutely recommend jumping on The Ultimate Fingerpicking Guitar Course. I've already tried the first few sessions and it's amazing. The course has been really carefully designed. I know Simon to be very meticulous when it comes to planning and making sure everything is complete so that you're not actually missing pieces.
So that is what I would say about The Ultimate Fingerpicking Guitar Course and I hope you enjoy it as much as I am.
Matthieu Delage
Owner and Director of The Madrid Guitar School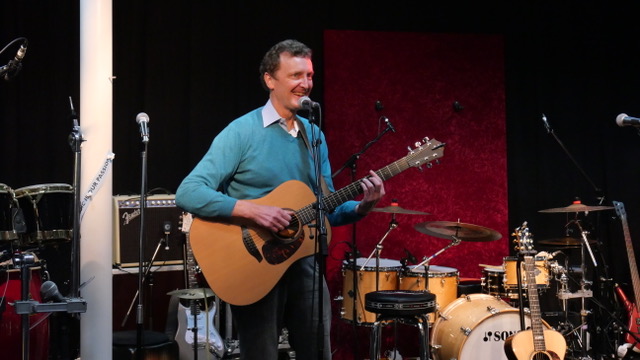 My name is Ingjald, I am 65 years old and I first started fingerpicking guitar back in 1975.
I am mostly self-taught and have studied various books and courses throughout the years.
The past few years I have researched on how to train effectively in order to progress. In spite of this, I have often run into invisible walls and had to abandon attempts at songs and skills.
The lack of progress I guess, is due to not being able to break down the song or skill into manageable parts and to put them into the right order.
Since confidence in my finger-picking skills were diminishing and I was reverting to strumming more and more, I decided to go for a complete overhaul and signed up for the "The Ultimate Fingerpicking Guitar Course" in February 2021.
What sets this course apart from other resources, is the systematic and consequent way skills are introduced, built and applied over time.
So far, I have received compliments for my guitar sound being more clear, powerful and fluid.
Also, there are a whole bunch of approaches, patterns and chord voicing's, which I couldn't have thought up on my own.
Besides practicing 30 minutes a day, 6 days a week, I find myself improvising with the new tools and discovering ways to freshen up songs in my repertoire.
Signing up to the The Ultimate Fingerpicking Guitar Course was absolutely the right decision and I am enjoying every lesson!
Ingjald
Friedrichsdorf, Germany
Here's What You Get In Every Acoustic Guitar Lesson
Videos for all fingerpicking exercises, drill, etudes, and pieces at both slow and faster tempos so you can clearly see and hear what you need to do.
Mp3/audio recordings for all fingerpicking exercises, drills, etudes, and pieces at both slow and faster tempo's so you can clearly hear what you need to do.
PDFs that include accurate tablature for fingerpicking exercises, drills, etudes, and pieces relevant to that fingerpicking guitar lesson.
New chord charts for each exercise, etude, and fingerpicking guitar piece with every lesson. How you fret a chord in one instance is not necessarily the same for another. The chord charts you receive with each lesson show you clearly how to fret the shapes for each component of that particular guitar lesson.
A practice schedule for each guitar lesson. I show you exactly what to practice and how to practice everything you learn so that your fingerpicking skills improve quickly.
Key fingerpicking advice, strategies and tips to make everything easier to learn and master.
Plus, You Also Get These Awesome Fingerpicking Guitar Bonuses: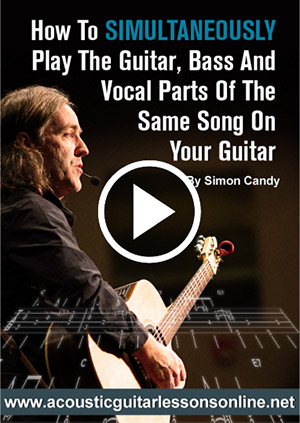 Bonus #1: How To Use A Special Sound That Immediately Blows Everyone Away – if you've ever wanted to instantly impress other people… this does it!
The first time anyone hears this special technique, their jaw will drop to the ground in absolute amazement! They won't believe their ears!
In this 2-hour video + PDF booklet, I show you exactly how to learn and play this incredible technique. Don't worry, it's not hard to learn. (You'll be able to start using this technique after about 20 minutes). 

This technique is not a "guitar trick" that will only keep you and your audience amused for 5 minutes. This is a game changing addition to your guitar playing that will bring a whole new magical element to your sound as a musician.
Value: $350 – FREE to you!
(This awesome bonus is for both silver and gold level students)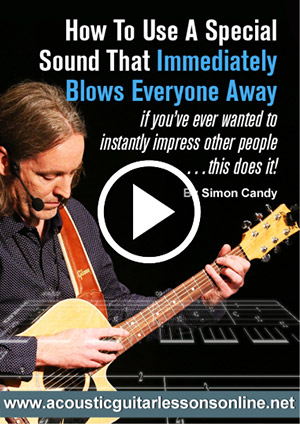 Bonus #2: How To SIMULTANEOUSLY Play The Guitar, Bass And Vocal Parts Of The Same Song On Your Guitar
Want to fingerpick your guitar like the greats such as Merle Travis, Chet Atkins, and Tommy Emmanuel?
In this 90-minute video I show you how, with Travis Picking.
What is Travis Picking?
Travis Picking is an impressive way of fingerpicking your guitar. I teach you how to make your thumb play steady bass lines on the lower 3 strings of the guitar, while your fingers pluck syncopated harmony and melody parts on the top 3 strings. It sounds complicated, but I break it down for you to make it easy to learn and play.
The sound you make is mind blowing!
Value: $250 – FREE to you when you choose Gold level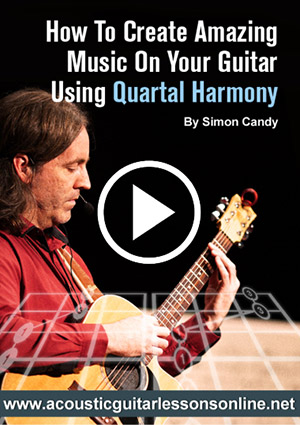 Bonus #3: How To Create Amazing Music On Your Guitar Using Quartal Harmony
This 75-minute video will introduce you to the very unique sound of quartal harmony. If you have not heard or know what quartal harmony is, then be prepared to be totally blown away!
This way of harmonizing notes on guitar is unlike anything you have ever heard before.
With quartal harmony, you will have the ability to create amazing sounding music, in many different genres/styles, producing any kind of emotion or mood you desire.
The best part is, the whole quartal harmony system is based off just a few chord shapes. This makes it very easy to visualize on the fretboard and use in your guitar playing, compared to more traditional forms of harmony.
Value: $250 – FREE to you when you choose Gold level

Here is what you need to do right now:
1. Scroll down.
2. Pick the option you want.
3. Click on the orange button that says: "Add To Cart".
So, get started right now:

The Ultimate Fingerpicking Guitar Course - Gold Level
With this level you get TWO lessons per month of The Ultimate Fingerpicking Guitar Course
Plus you also get:
Bonus 1: How To Use A Special Sound That Immediately Blows Everyone Away Video Masterclass/PDF Booklet
Bonus 2: How To SIMULTANEOUSLY Play The Guitar, Bass And Vocal Parts Of The Same Song On Your Guitar Video Masterclass/PDF Booklet
Bonus 3: How To Create Amazing Music On Your Guitar Using Quartal Harmony Video Masterclass/PDF Booklet
$147 $97 (US) per month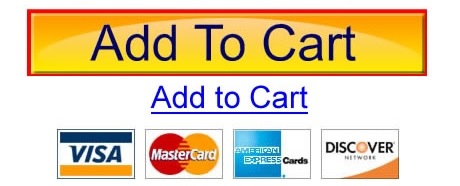 I want to talk to you today about The Ultimate Fingerpicking Guitar Course by Simon Candy from Acoustic Guitar Lessons Online .net
Now there's lots of different guitar teachers teaching acoustic guitar and there's lots of different lessons and courses and Dvd's and products that you can buy online and even offline.
But there are two things I think are quite different about what Simon Candy has done here, and that is in his course you not only just get information or things to do or exercises to practice. If information was everything we needed, we'd all be billionaires with 6 pack abs right?
What Simon has done is that he has put it together into a comprehensive course that gives you not just the information, but the training, the coaching, and the mentoring of how to put it together, how to create practice schedules from it, what exactly to do with the information that you have even if you have little time to practice so you actually get results and become a better guitar player.
Now you would think that that's what everybody should be doing, but in my experience of doing this for well over a decade I have seen very very few teachers, and really few courses that really get this and I think that Simon Candy has done a marvellous job here.
And the second reason is I've known Simon for many many years, I've seen him perform, I've seen him teach in person, and I know that his teaching skills are some of the best in the world. So I know you are going to be in good hands with Simon.
He is going to be giving you the support, the guidance, that you need every step of the way to make sure you get the results, and get the enjoyment, and the fulfilment that you are looking for out of your acoustic guitar playing
Mike Philippov
Professional Guitarist and Guitar Practice Expert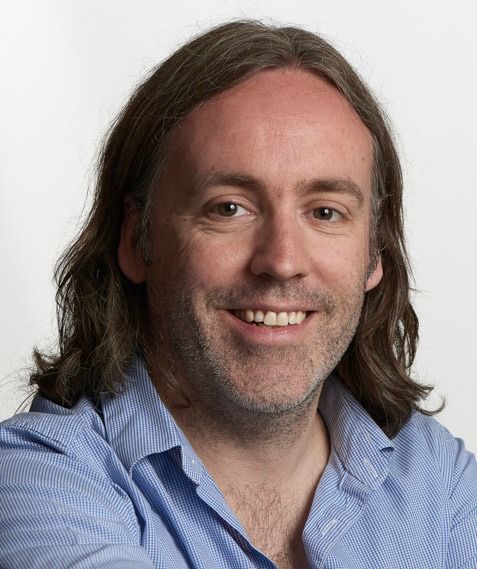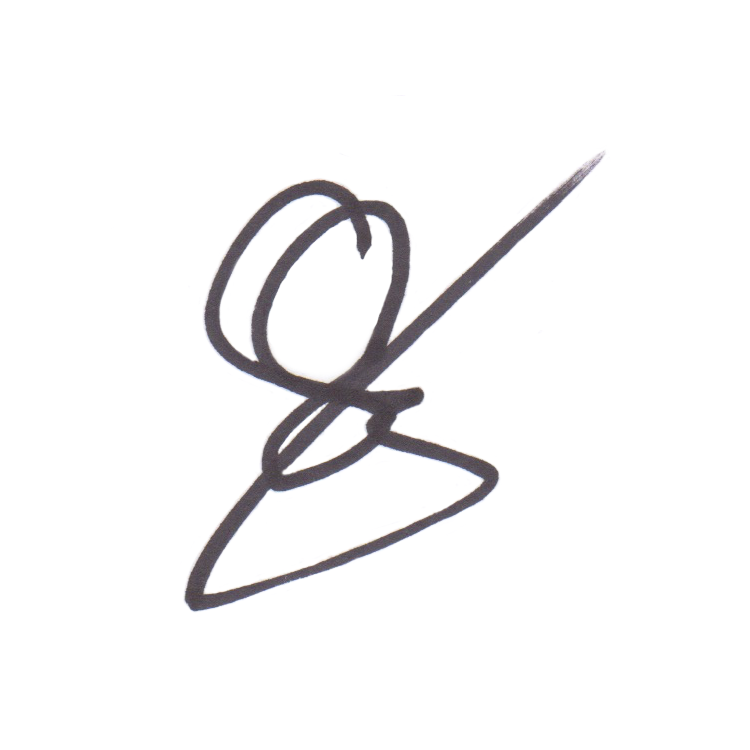 P.S. Finally get the breakthrough you've been searching for. Get The Ultimate Fingerpicking Guitar Course now, click here to get started.