3 Proven Strategies And 5 Simple Steps To Creating Amazing Walking Bass Lines On Your Guitar!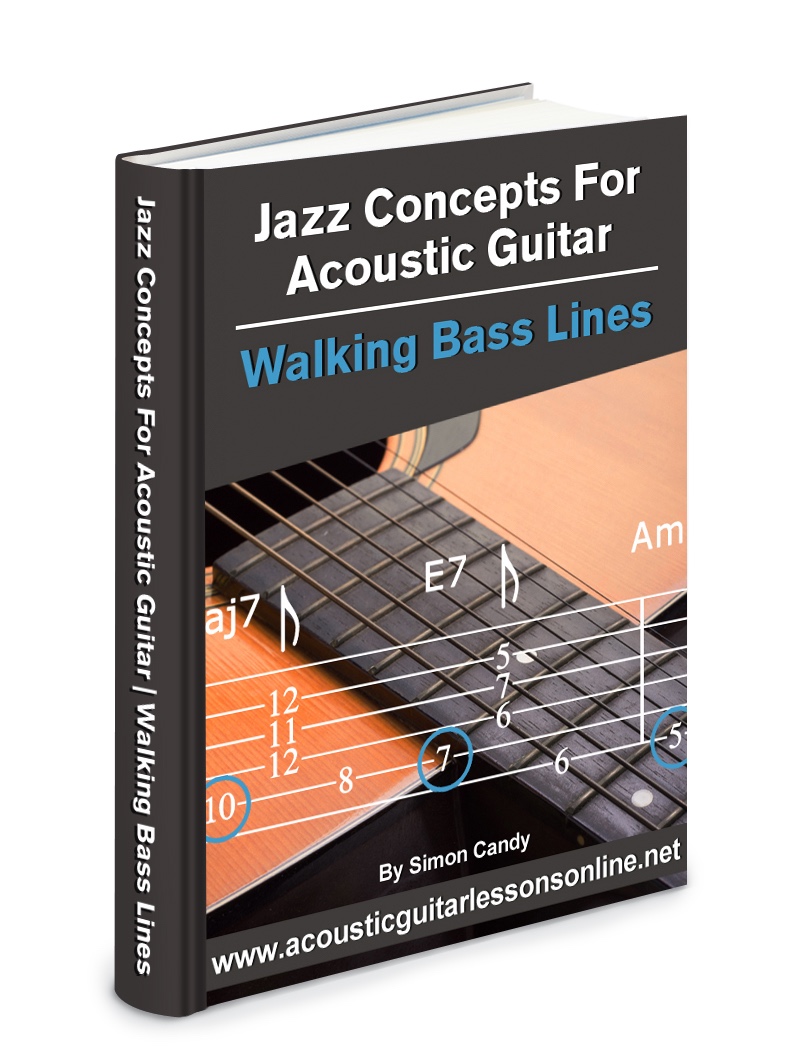 There is something about a walking bass line that is so cool!
It is such a recognisable sound to the ear, even if you don't know what it is exactly, or even what to call it.
Synonymous with jazz music, walking bass lines sound equally amazing, if not better, on a guitar!
Why?
Because on a guitar you have the ability to add chords to your walking bass lines too.
The first time I ever heard somebody playing a walking bass line with chords on a guitar, I was totally blown away! From that day on I made it my mission to learn how to play and create walking bass lines myself, as easily and effortlessly as I observed others doing it.
Now I want to pass on to you 3 proven strategies, and a simple 5 step process that works every time you want to create a walking bass lines on your guitar!
In "Jazz Concepts For Acoustic Guitar - Walking Bass Lines" you will:
• Learn 3 strategies that all the great jazz players use to easily and effortlessly create walking bass lines on guitar
• Learn my 5 step process that takes a simple progression and transforms it into an amazing, sophisticated sounding walking bass line, complete with chords. You'll sound like a jazz rhythm section on one guitar!
• Have each walking bass line approach broken down for you note by note. You'll not only gain the ability to play the walking bass lines, but understand them too, so you can easily create your very own
• Greatly increase your knowledge of chords and the notes they contain by studying and creating walking bass lines. This will help improve other areas of your guitar playing including soloing
• Be shown how to add chords to your walking bass lines for added WOW factor! You'll knock the socks off those who hear you play!
• Discover the one thing that will do more for your ability to create and apply walking bass lines to your guitar playing than anything. Most people never do this
• Have the tabs, audio, and chord charts all provided for you to make it super easy to learn each walking bass line

Get free instant access to "Jazz Concepts For Acoustic Guitar - Walking Bass Lines" now. Simply fill out the easy form below, then click the "Give Me Access Now" button.
FREE Guitar Ebook And Audio
All information is kept 100% private and confidential.