Masterclass Video Lesson: Create Incredible Sounding Fingerpicking Music On Your Guitar - Part 1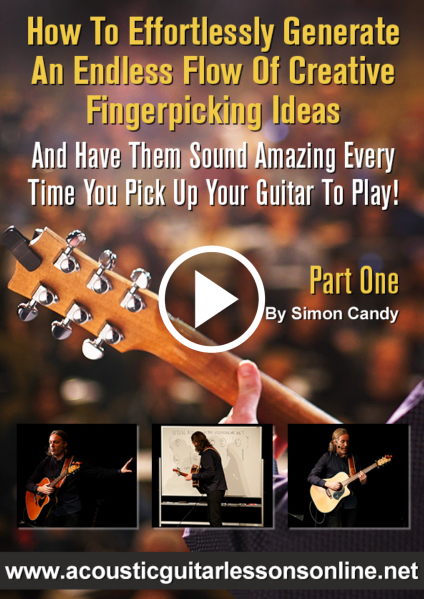 There's so much more to fingerpicking your guitar than technique alone.
Sure it's important, however what do you do once you have solid fingerpicking technique?
Many fingerpicking resources out there get you from points A to B, but what about points C, D, E and beyond?
There are so many ways you can take your fingerpicking skills and apply them in all sorts of cool, unique, and creative ways, really exploiting the technique you've invested so much time into developing.
In this video masterclass, I am going to show you exactly how to do that with a single chord progression. This will highlight the mileage and creativity available to you with just a small collection of basic fingerpicking techniques and one chord progression.
There is no magic here, just simple fingerpicking techniques, applied in creative ways, to create great sounding music!
In this masterclass you will:
• Discover how to develop great fingerpicking technique in 5 minutes. Let me help you avoid all the pitfalls and get you on the correct path to fingerpicking freedom, so you can get to all of the good stuff that follows
• Learn the 3 main approaches to fingerpicking guitar and how you can generate endless musical ideas with each
• Learn how to jazz up a chord progression using beautiful lush chords while weaving a walking bass line throughout at the same time. It will sound like two guitars playing at once!
• Discover a very special sound that is largely generated from open strings and how this sound will have a major impact on your fingerpicking with very little effort, yet yields amazing results!
• Receive a PDF Booklet that has all examples tabbed out, including diagrams for all chords used, as well as precise fingerpicking patterns. There is no guess work on your part as everything is beautifully laid out for you in a clear and precise manner
Get free instant access to the "How To Effortlessly Generate An Endless Flow Of Creative Fingerpicking Ideas - Part 1" video masterclass now. Simply fill out the easy form below, then click the "Give Me Access Now" button.
FREE Fingerpicking Guitar Masterclass
All information is kept 100% private and confidential.