Want To Eliminate Your Guitar Playing Limitations Making More Progress In One Day Than You Have In The Last 6 Months?
Join us for Guitar Breakthrough Summit on Saturday January 22nd, 2022, 10.00am - 5.00pm, Central Standard Time (Chicago time).
Guitar Breakthrough Summit is a free online event containing workshops presented by experts from all over the globe on cool, innovative, and exclusive topics designed to eliminate any limitations you have with your guitar playing.
This is an interactive event. You will you pick up your instrument and improve right there in the moment, becoming a better, more inspired and motivated guitar player.
Guitar Breakthrough Summit has a strictly limited number of spaces available and will only be live streamed. No recording will be provided so reserve your spot now.
During this live online summit you learn:
• The ultimate breakthrough guitar technique
• Rhythm Palettes - the master way to rhythm guitar creativity
• How to easily find the perfect exercise for any problem in your guitar playing
• Why arpeggios are the missing link if you want to play great sounding blues solos
• 3 hacks for playing advanced chord progressions on guitar that make you sound pro
• How to write better lyrics - secrets great songwriters use to craft extremely expressive lyrics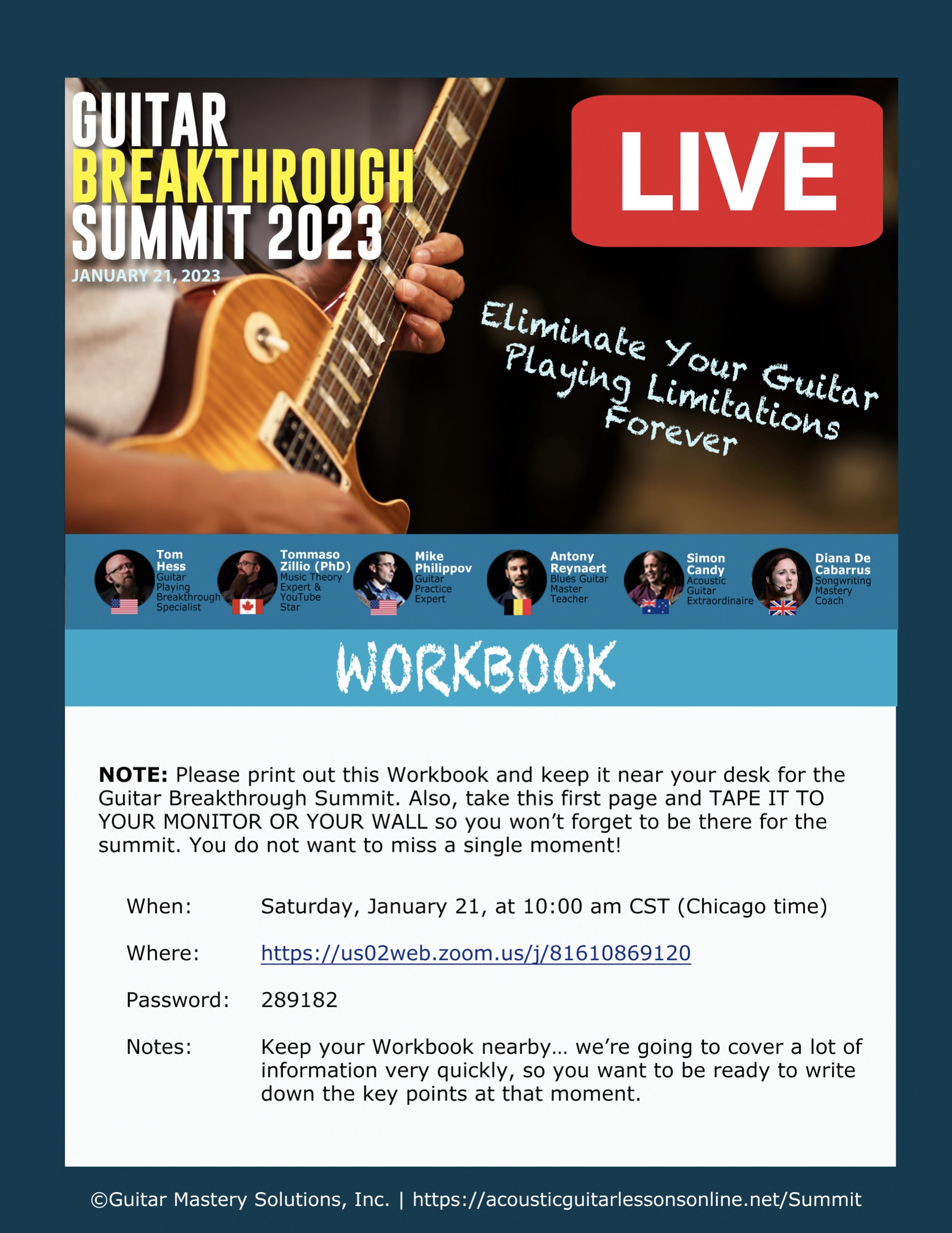 Plus you will receive a comprehensive workbook that provides you all the content you need to get the most out of each workshop.
You can refer to and use this workbook during and after the summit to continue learning and drawing from all the guitar goodness that Guitar Breakthrough Summit is going to bring you :)
Who is Guitar Breakthrough Summit for:
• Guitar Players from all walks of life, anywhere in the world. Amateur, semi pro, and pro level players. Blues, Rock, Metal, Acoustic, Fingerpickers.
What you need to bring to Guitar Breakthrough Summit:
• Your Guitar
• Paper and pens to take notes
• Guitar Summit Workbook (printed out)
Technical Requirements:
• Webcam or smartphone/device
Reserve your spot for Guitar Breakthrough Summit below. Spots are strictly limited so do it right now:
All information is kept 100% private and confidential.