Watch Your Chord Playing Explode With These Cool Jazz Shapes For Your Acoustic Guitar!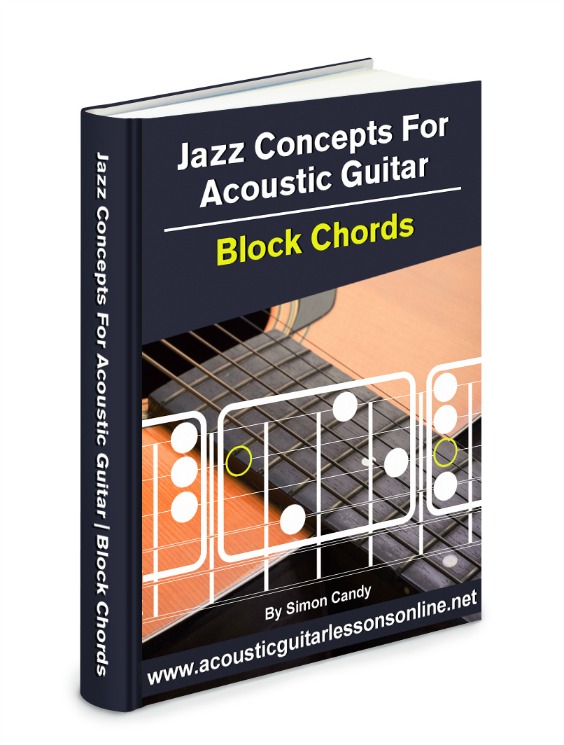 Want to learn some really cool jazz chord shapes for your acoustic that will totally change the way you see, feel, and play rhythm guitar?
If you don't like jazz, it doesn't matter!
Personally I do, and most guitarists I've met, and played with, would love to be able to play a little jazz. However, these chords can be used in all styles of music and will not only drastically increase the amount of chords you can play on your acoustic guitar, but also form a very important foundation for chords you will learn in the future.
Fact is, there are many things you can learn from jazz without playing the style, and the series of chord shapes I am going to introduce you to today is a great start!
In "Jazz Concepts For Acoustic Guitar - Block Chords" you will:
• Learn a system of cool chord shapes that will cover the entire length of the fretboard. You will always have one of these chords close by no matter where you are playing on the neck of the guitar
• Learn 3 awesome approaches you can use with these jazz chords to create great sounding music, no matter what style you are playing
• Discover the secret behind visualising any chord shape on your guitar, so they stick for good and can easily be found on the fretboard, in real time playing
• Learn how to easily and quickly multiply the chords you can play on your acoustic guitar by altering just one note (it's so simple!)
• Know how to get that cool, sophisticated, jazz sound into your acoustic guitar playing
• Avoid the most common mistake guitarists make when learning chord shapes on guitar, saving you a lot of time and frustration
• Have tabs and audio for all examples presented throughout the ebook for ease of learning, and getting each idea down into your own guitar playing

Get free instant access to "Jazz Concepts For Acoustic Guitar - Block Chords " now. Simply fill out the easy form below, then click the "Give Me Access Now" button.
FREE Guitar Ebook And Audio
All information is kept 100% private and confidential.