Ignite Your Acoustic Guitar Soloing Creativity With These Jazz Arpeggios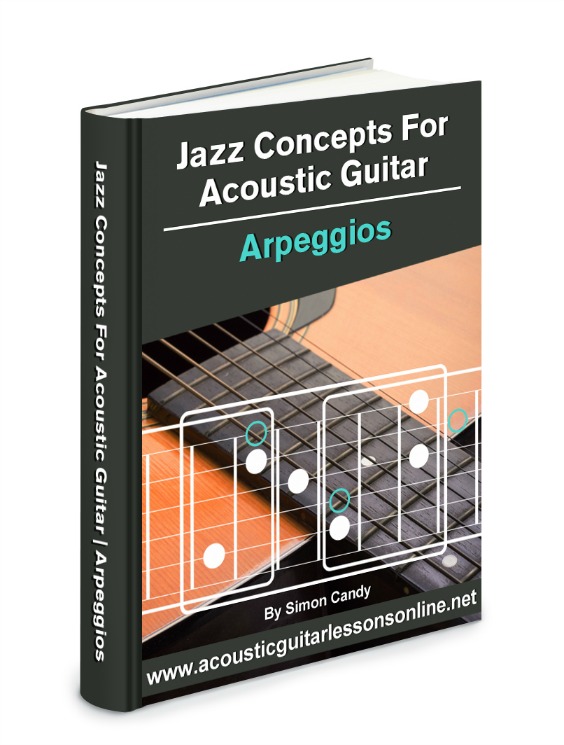 Want to learn how to create awesome sounding solos using jazz arpeggios on your acoustic guitar?
Whether you love jazz, hate jazz, or are indifferent to it, it doesn't matter!
To study a little jazz does not mean you have to play jazz or become a jazz musician. These arpeggios, and more importantly, learning how to apply them to create amazing sounding music, will ignite your acoustic guitar soloing whatever style you play. They will bring to your playing a whole new sound that may otherwise very well be left undiscovered.

In "Jazz Concepts For Acoustic Guitar - Arpeggios" you will:
• Learn 3 ways to apply jazz arpeggios to your acoustic guitar playing to create amazing sounding music
• Discover how to drastically multiply your soloing possibilities using these arpeggios without any extra effort whatsoever. This one is a real game changer for your guitar playing!
• Feel a sense of confidence and self assurance when you go to solo on your acoustic guitar knowing you can now create awesome, breathtaking, melodic music every time, using arpeggios
• Learn how to inject that "Jazzy" sound into your playing, even if you aren't actually playing jazz
• Have all examples clearly explained, with tabs and audio, so you can get straight into creating jaw dropping solos using arpeggios

Get free instant access to "Jazz Concepts For Acoustic Guitar - Arpeggios " now. Simply fill out the easy form below, then click the "Give Me Access Now" button.
FREE Guitar Ebook And Audio
All information is kept 100% private and confidential.