Masterclass Video Lesson: Create Incredible Sounding Fingerpicking Music On Your Guitar - Part 2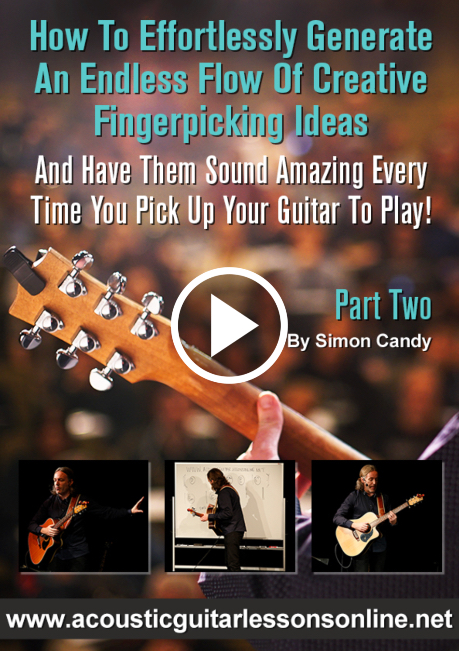 This live video masterclass picks up where creative fingerpicking techniques for guitar part 1 finished off.

You will continue to learn how to use your fingerpicking skills to create amazing sounding music.
It's so common for players to invest time into building great fingerpicking technique with very little outlet in which to then apply it.
Don't let this be you!
It's very frustrating to invest your precious time into something that yields little to no return.
Technique is a means to an end, and that end is YOU creating amazing fingerpicking music on your guitar, effortlessly, and LOVING every moment of it!
So let me show you how to continue doing exactly that.
In this masterclass you will:
• Discover the number 1 fingerpicking approach that can be found in thousands upon thousands of songs. I will show you how to use this approach to create amazing music all of your own
• Learn how to take fingerpicking patterns you already know and use them in new, unique, and innovative ways creating amazing music on your guitar
• Discover how to fingerpick your way through a chord progression without actually playing a single chord. This approach will bring a whole new sound to your fingerpicking plus a truckload of possibilities to go with it
• Learn 2 key percussive fingerpicking patterns that will bring a very cool groove to your playing, and have your audience in awe of what they are hearing
• Receive a PDF Booklet that has all examples tabbed out, including diagrams for all chords used, as well as precise fingerpicking patterns. There is no guess work on your part as everything is beautifully laid out for you in a clear and precise manner
Get free instant access to the "How To Effortlessly Generate An Endless Flow Of Creative Fingerpicking Ideas - Part 2" video masterclass now. Simply fill out the easy form below, then click the "Give Me Access Now" button.
FREE Fingerpicking Guitar Masterclass
All information is kept 100% private and confidential.