Guitar Chord Creativity Part 3
The Secrets To Transforming An Average Chord Progression Into Amazing, Unique, And Incredible Sounding Music!
by Simon Candy
Today, in the final part to our series on creativity with chords on guitar, we are going to take the strategies and methods learned so far in these lessons and apply them to two common chord progressions I'm sure you have played many times on your guitar before.
However with the way I have been getting you to play chords on your guitar throughout this series, these chord progressions will sound anything but common. If you are yet to check out this lesson series on creating amazing music using chords on guitar then I highly recommend you do so. What I will be covering in today's lesson will be understood on a much deeper level by doing so.
With that said, we are now going to introduce a third chord to go with the first two guitar chords from parts 1 and 2 of this lesson series.
Which chord I hear you ask?
The D chord.
There are two main reasons why I have chosen the D chord to go with your A and E chords:

1. A E and D chords all belong to the same key; A Major. This opens up many possibilities in terms of applying and creating with these chords on your guitar

2. The D chord fits in with the strategy/method I have got you to apply to the A and E chords previously in regard to droning open strings (more on this shortly)

Together with all 3 chords, you will now have the scope with which to create amazing, unique, and incredible sounding chord progressions on your guitar.
In this lesson I am going to get you doing exactly this with two of the most common chord progressions you'll ever come across. Don't mistake common as boring though. These progressions will sound anything but boring!

Guitar Chord Creativity With The D Major Chord
Once again I will run you through the steps we did with the A and E chords in the first two lessons of this series with the D chord.
I am going to be very brief here as you should be getting the idea of the method we have been using by now. Of course be sure to watch the video that accompanies this lesson for detailed explanations and demonstrations.

Step 1: D Chord Shapes
Here are our 3 D chord shapes we will be working with as part of this lesson:

Notice these shapes are on the top 3 strings of your guitar. The A and E shapes were on strings 2, 3, and 4. There is a very good reason for this I will reveal shortly.
Here are the diagrams for each chord: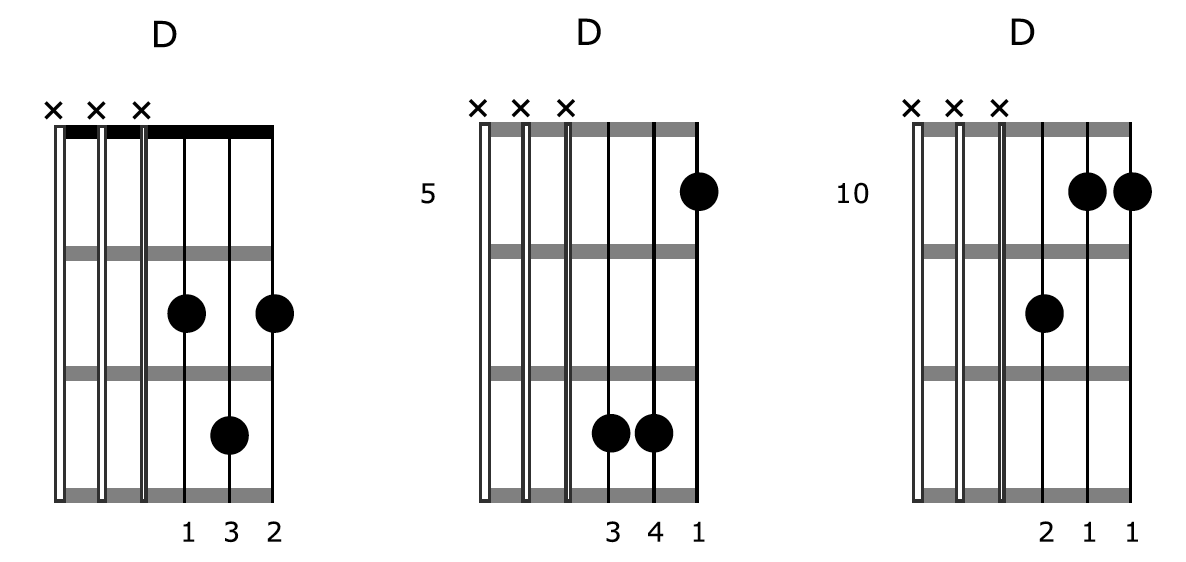 Step 2: Adding Open Strings (High Drone)
Next, simply remove the finger that is on the first string of each chord to allow the open E note to ring throughout providing the droning sound we have been utilising throughout this series:

Here are the diagrams for each chord: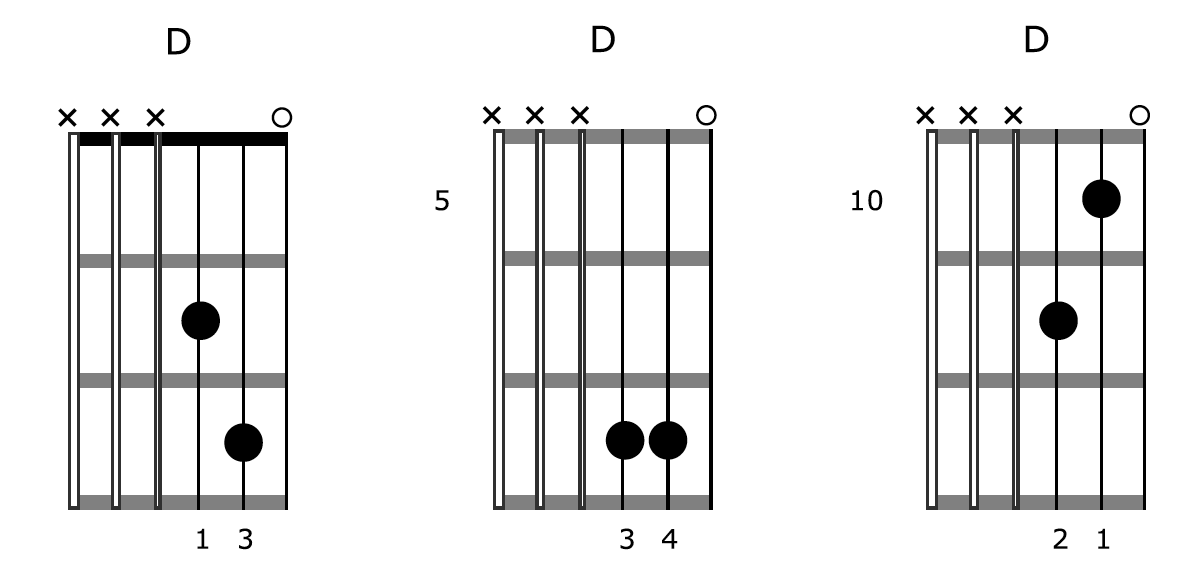 Step 3: Adding Open Strings (Low Drone)
Let's also add the open 4th string bringing a more full sound to our chords:

The open 4th string is a D note, the root note of our chord. As was the case with our first two chords, D works out great in that we can access the root of the chord on one of the lower three open strings of the guitar.
This is why I placed the D chord shapes on the top three strings, giving you access to this open 4th/D string.
Here are the diagrams for each chord: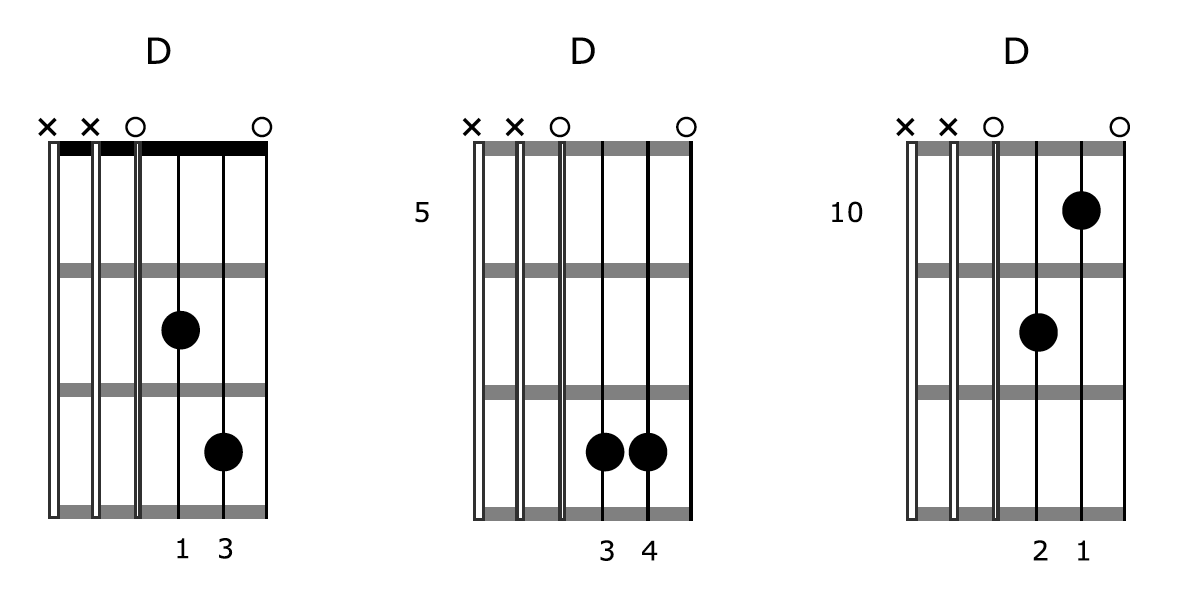 To become a little more familiar with the D chord shapes on your guitar, here is a drill that breaks up each shape as you run them up the fretboard:

Here is another drill, similar to the first, only picking each note separately within each chord shape:

Step 4: Additional Notes
As we did with both the A and E chords previously, the magic really starts to happen when adding notes to each of the D chord shapes.
Here are the more consonant notes you can add to each chord. Each of these notes belong to the key and is why they sound more "in" to your ear for the most part:



Here are a mixture of consonant and distant sounds that can be included with the D chords. I am simply adding every possible note that falls within the position of each chord on the top string:



Remember all notes can work, in and out of key. It's a matter of working with each sound and getting it in your ear that will determine how well you can get it to work within the context of the chord.
Watch the video to hear demonstrations of this.

Step 5: Connecting Chord Shapes
In order to create and apply with each of our A, E, and D chords covered in this lesson series, we need to organise each of them by position on the fretboard.
We did this with the A and E chords in the previous lesson, and will now simply add the corresponding D chord to each of those parings like so:

Chord Grouping 1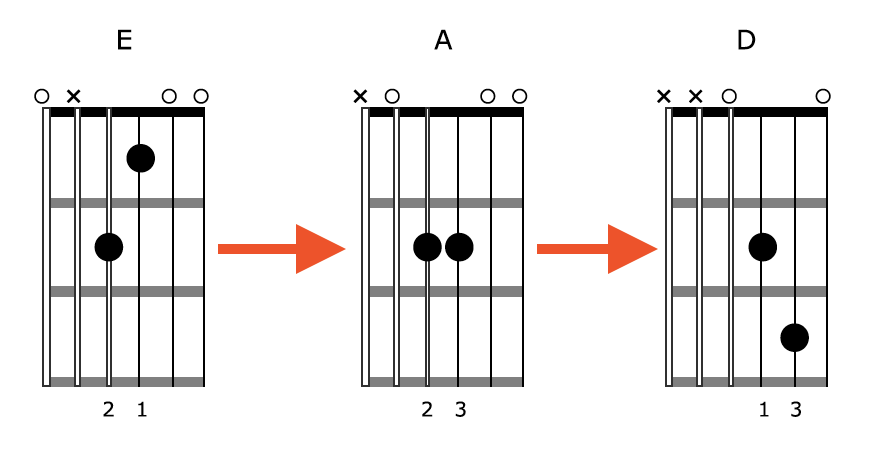 Chord Grouping 2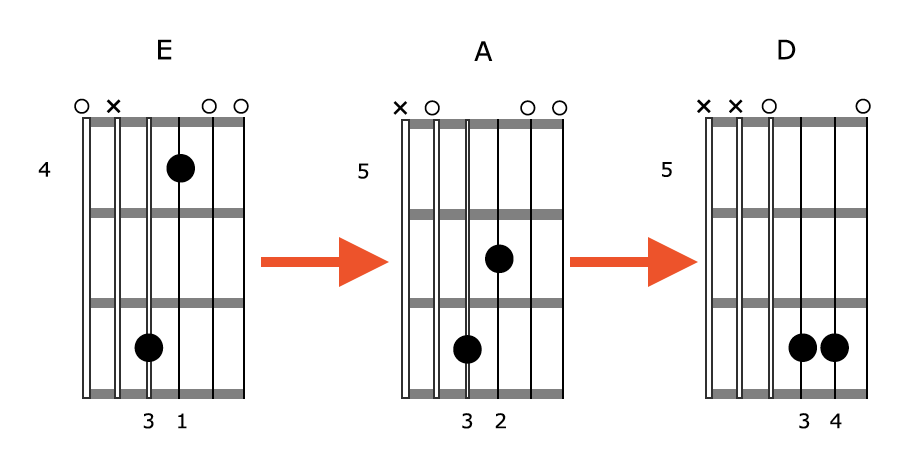 Chord Grouping 3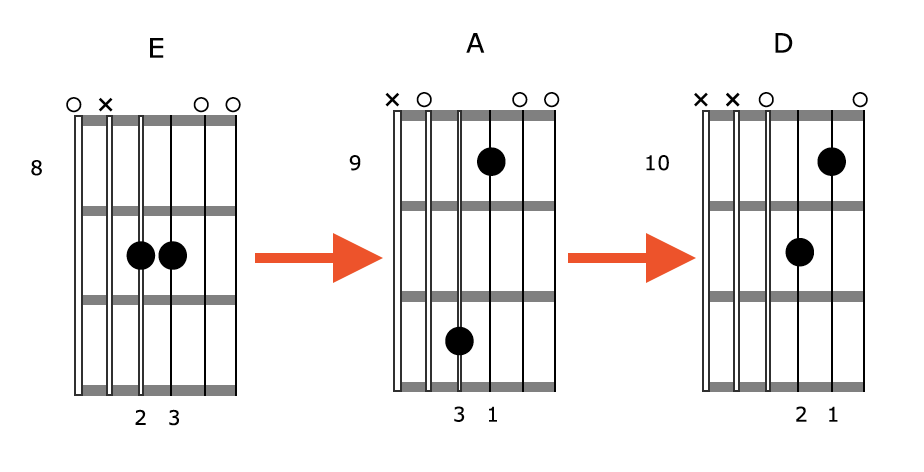 Learn the groupings of the chords above well. Visualising how things relate to each other on the fretboard, such as the chords covered in this lesson series, is essential in having them under your fingers and ready to go in the actual act of playing guitar, where you have zero time to think.

Two Common Chord Progressions Totally Transformed
The following are two of the most common chord progressions you will play on your guitar. However, using our creative chord strategies learned throughout this lesson series you will hear they have been totally transformed from how you would normally hear them. Now you have three chords under your fingers with this method, these are the kinds of things you can do.

A Major Chord Progression
Here is a typical chord progression in the key of A Major using our A, D, and E chords: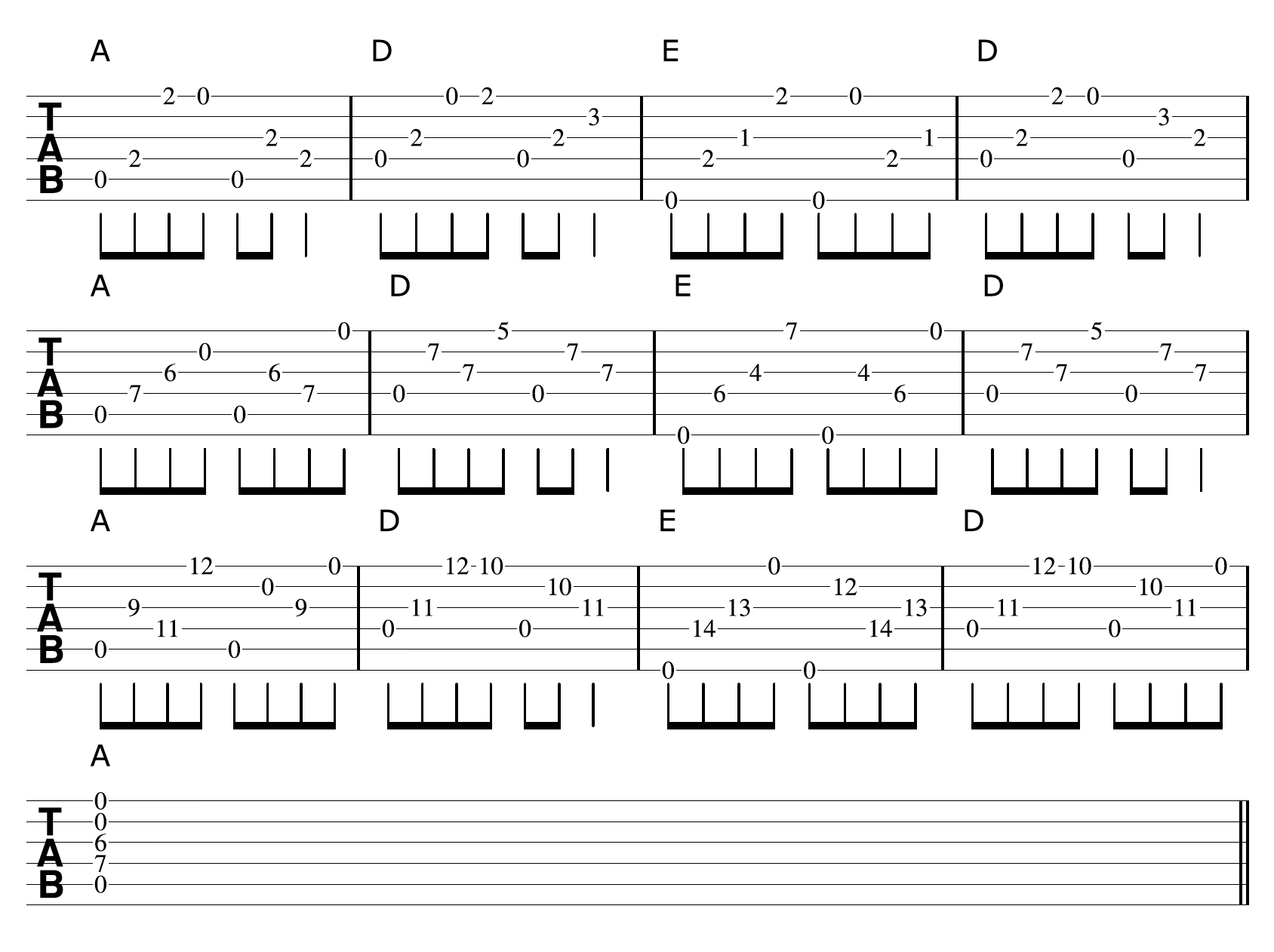 Each time I play through the progression above, I am moving up the fretboard to the next position to play each of these chords.
Be sure to listen to the example above and watch the video to hear it played.

A Blues Chord Progression
Here is a 12 bar blues progression in A using our A, D, and E chords: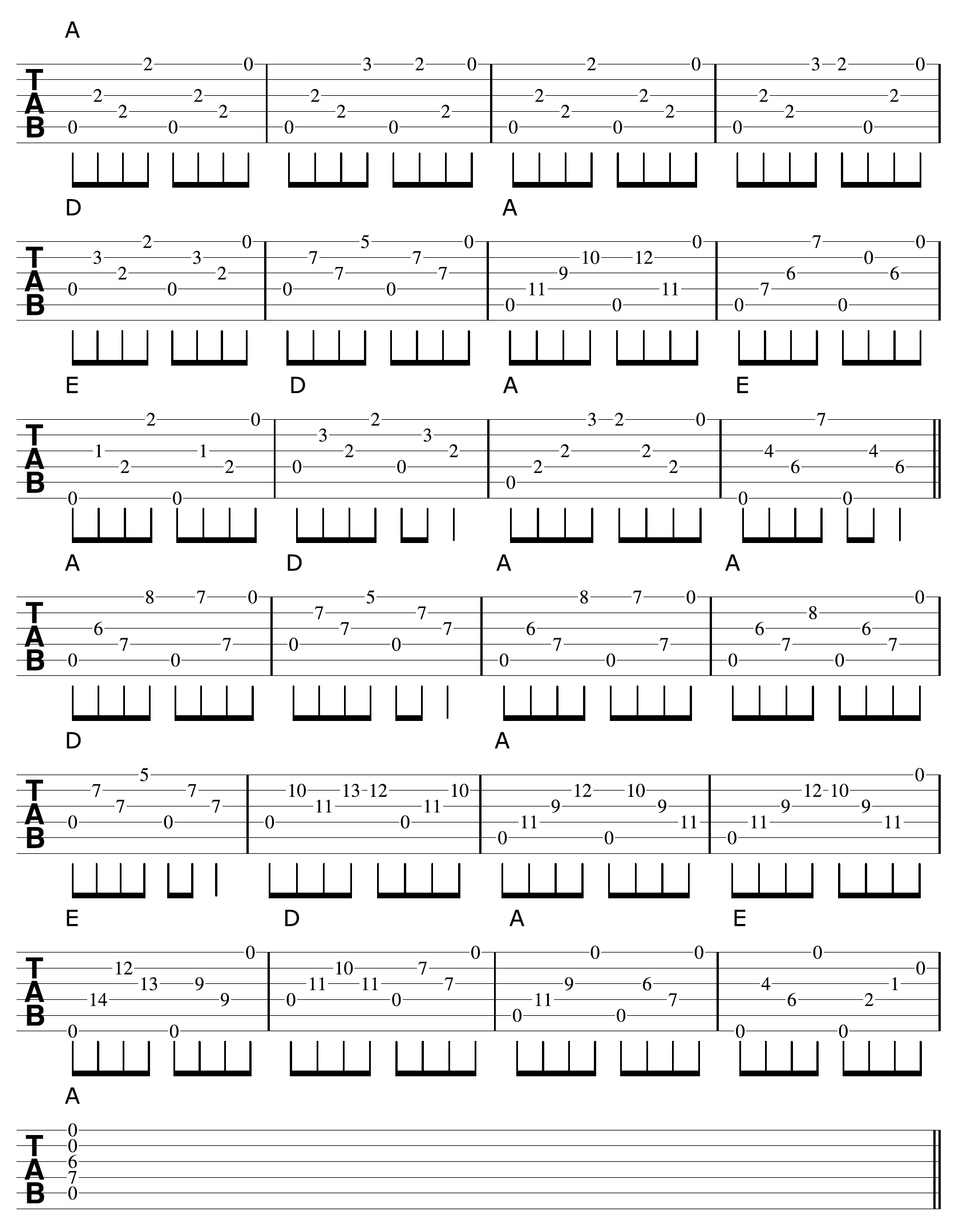 The progression above is made up of two chorus' of a 12 bar blues in A. Throughout, a variety of the chord shapes you have learned in this lesson series are used for the A, D, and E chords.
Be sure to listen to the example above and watch the video to hear it played.
Now you have the A, E, and D chords under your fingers using the method I have shown you throughout our chord creativity lesson series, there are many progressions and songs you can apply them to.
Here are just a few to get you started:

• Satisfaction - The Rolling Stones

• Jack And Dianne - John Cougar Mellencamp

• Cocaine - J. J. Cale

• I Saw Her Standing There - The Beatles

• 12 Bar Blues In E (take your pick of songs/artist's that have used this progression)


Each song above is either entirely made up of A, D, and E chords, or features them very heavily.
Use these songs and progressions to create all kinds of cool versions with the method taught throughout this guitar chord creativity lesson series.

Check out these acoustic guitar chord shapes that will massively increase the amount of chords you can play and use on your guitar